Quick Facts
destinations: Caribbean, Turks & Caicos
travel dates: 01/17/20 - 12/31/20
booking dates: 02/01/20 - 02/29/20
Where Lasting Impressions Are Made
Sun, sand, and sea. City sights or northern lights. Mountainside or desert-wide. Landscapes painted by nature or enhanced by history. The choice is yours when you "go" with Travel Impressions, a multiple award-winning global tour operator servicing over 1,800 destinations worldwide and trusted by travel agents since 1974.
So where will you go from here? Contact your travel professional to start planning now.
Travel partners: sign in below to begin making Travel Impressions for your clients.
Agent Login
Register
Turks & Caicos is Travel Impressions' Destination of the Month!
The only true way to experience the Turks and Caicos Islands is to experience each island in the entire chain of 40 islands and cays, all of which are almost as diverse as its people. From the main tourist center of Providenciales to the quiet and tranquil islands of North and Middle Caicos to the historic Capital Island of Grand Turk, there's so much to do and discover in paradise. Incredible beaches, crystal clear and warm ocean water, abundant marine life and beautiful tropical wetlands are yours to explore.



TOP 5 THINGS TO DO IN TURKS & CAICOS!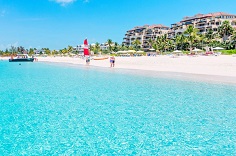 BEACHES
Beach on Providenciales has the upper hand. Due to consisting of broken down shells and coral, the sand in the Turks and Caicos is a measure above what's found at the beaches in most other countries. Offering lush sea grass and brilliant coral reefs such as the Bight Reef and Smith's Reef, come experience the luxurious beaches on your own. And remember, all Beaches in the Turks and Caicos are public.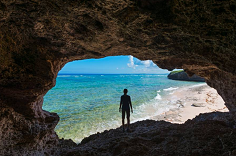 CAVE SYSTEMS
Caves, sinkholes, blue holes and solution features can be found throughout the country, but are especially present on the Caicos Islands. Dry cave systems are typically the most interesting, and Middle Caicos has two dry systems that are open for tourism including Conch Bar Cave and the less-extensive Indian Cave.
DIVING & SNORKELING
Turks & Caicos have the third largest barrier reef in the world and countless spectacular wall dive sites. The islands sit on an underwater plateau that rises 10,000 feet up from the surrounding ocean floor. In many places, the transition from shallow to deep is obvious and impressive by the change in water color. Combined with the abundance of vibrant coral and sea life, it's no wonder that Scuba Diving Magazine readers have voted the Turks and Caicos as having the best diving in the Caribbean.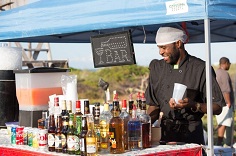 ISLAND FISH FRY EVERY THURSDAY
Every Thursday from 5:30 PM to 9:30 PM at Bight Park, the islands host over a dozen local food vendors, entertainers and cultural acts to create an evening of "all things TCI" that entices locals and visitors alike to experience an evening in the park in a fun, family style setting! Come experience the aroma of fresh, fish frying permeating the air, while visual treats abound with vats of boiling lobster and conch salad masters plying their craft.
HIKING
For those who simply want to enjoy the beautiful outdoors, the country's remote and wild coastlines offer an amazing hiking setting. The central islands of Providenciales, Middle Caicos, East Caicos and South Caicos offer varied and spectacular environments to explore. The nature reserves and national parks in the Turks and Caicos are still being developed for tourism, so grab a guide to show you around.

Use the booking tool on the left-hand side of the page to browse through top offers in Turks & Caicos!
TERMS & CONDITIONS
Tours operated by Travel Impressions. Information is accurate at time of publication and is subject to changes, exceptions, cancellation charges and restrictions. Not responsible for errors or omissions in the publication of this information. Valid for new bookings only.